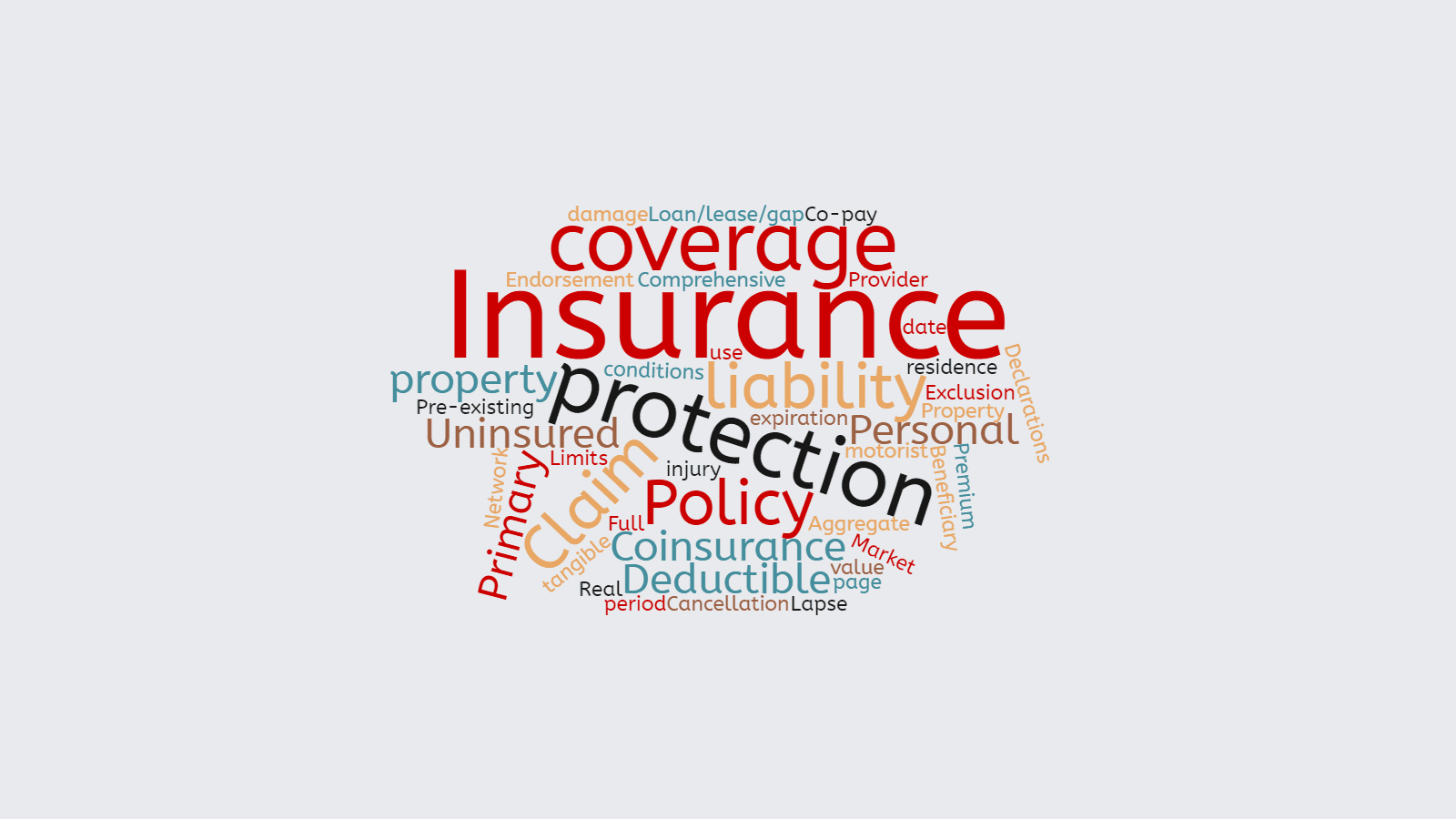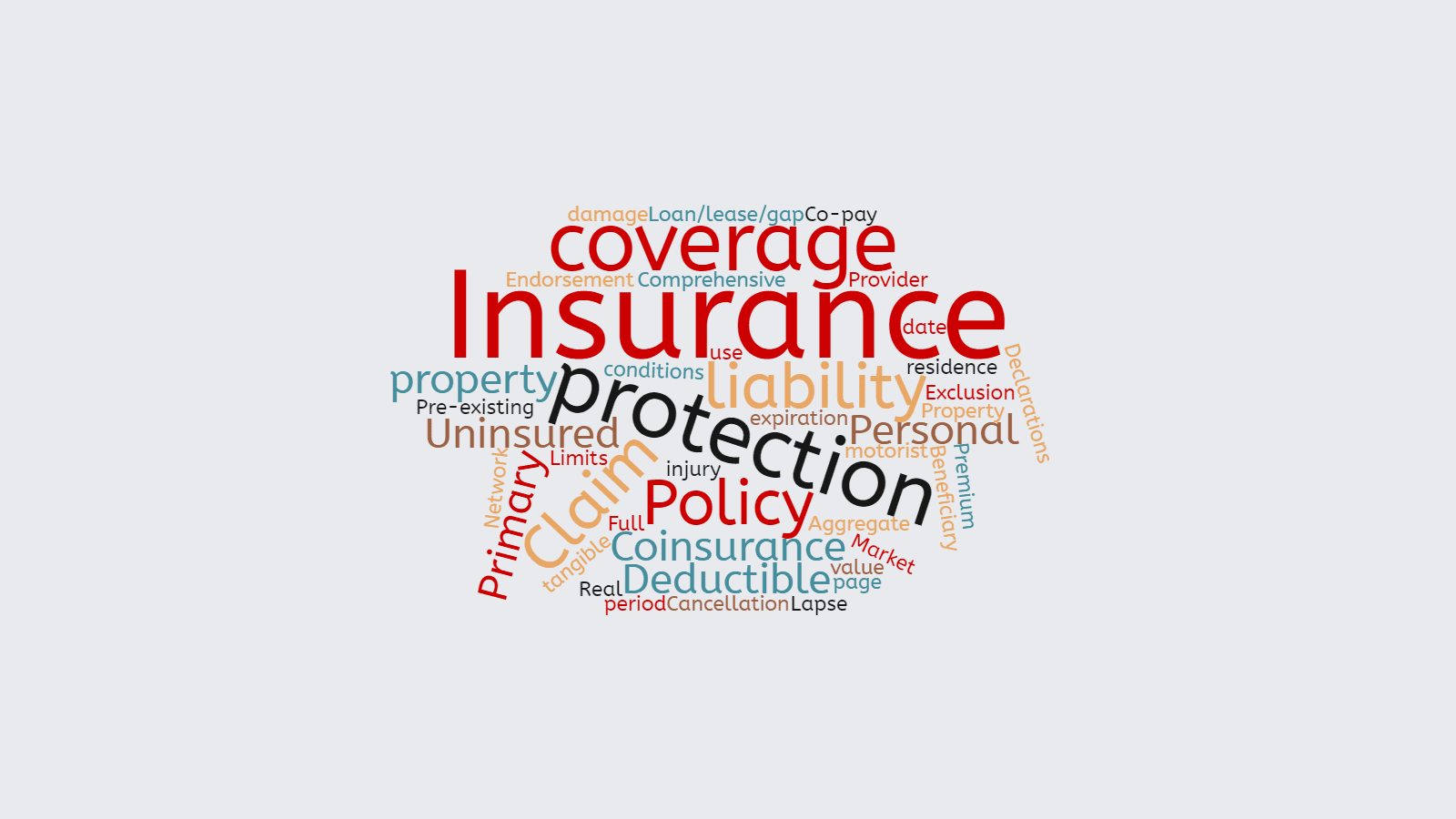 Knowing what kind of insurance you need can be confusing, especially if you aren't familiar with the jargon.
Check out our quick reference guide below for simplified definitions of common insurance policy types and terms. All definitions were provided by our amazing agents who can help find you the right insurance to keep you safely covered from unknown risks. Reach out to one of our agents for further information on how you can be covered. https://www.dehayes.com/insurance-quote/
Types of Insurance 
A
Auto
Auto Insurance is a financial contract between you and an insurance company that protects you and your vehicle against financial loss in the event of an accident or otherwise. There are two types of Auto Insurance: Personal and Commercial.
C
Collision Coverage
Insurance that helps pay to repair or replace your vehicle in the event it is damaged in an accident with another vehicle or object.
F
Fire
A form of property insurance that covers damages and losses caused by a fire.
G
Group Policies
Group insurance policies are single contracts which cover an entire group of people (employees). Usually, the owner of the policy is an employer or entity.
H
Health
A type of insurance that typically pays for medical expenses.
Homeowners
A form of property insurance that protects named insured from losses or damages to an individual's home, furnishings, and other assets in the home. Homeowners insurance also provides liability coverage against accidents in your home or on your property.
I
Identity Theft Protection
Coverage that covers costs associated with identity theft. Often times it reimburses victims for money spent on reclaiming their financial identities and repairing credit reports.
Inland Marine
Coverage for mobile or specialized property that may leave a premise. Inland marine coverage can extend to property in transit, specialized construction equipment at jobsites, mobile medical equipment, and even fine jewelry on a personal level.
L
Liability Insurance
There to cover you for the amount you become legally liable to pay someone else for a covered loss up to a stated amount in your policy including homeowners, auto, or commercial general liability policies. Additional liability can be purchased with an umbrella coverage (see definition below).
Life
Insurance policy that guarantees the insurers pays a sum of money to named beneficiaries when an insured dies. Life Insurance is used to protect families from loss of income in these events.
Loan / Lease / Gap Coverage 
Type of insurance that pays the difference between the actual cash value of the car and the unpaid balance on your lease/loan.
Long-Term Disability
Protection of your monthly income outside of work for accident or illness for an extended period of time. The benefit is payable usually up to age 65.
P
P

roperty
First party coverage that provides protection against most risks to property (buildings, contents, personal property etc.), such as fire, theft and some weather damage.
Property Damage Liability
If you are found legally liable for an accident, property damage liability coverage pays for damage to others' property resulting from the accident. This also pays for legal defense costs if you're sued.
S
Short-Term Disability
Income protection of your weekly income for sickness or illness a short period of time. Benefits payable typically up to 13 weeks.
U
Umbrella
Umbrella insurance is additional liability coverage that goes beyond the limits of your homeowners, auto, or commercial general liability policies. This is viewed as an extra line of defense in case you are ever involved in a lawsuit or found legally liable for damages that surpass your underlying liability limits. The term umbrella comes from the fact that the policy will extend its layer of protection over multiple types of liability policies.
Uninsured Motorist Coverage
If a driver or owner of a vehicle does not have insurance and is legally liable for an accident, you can use uninsured motorist coverage for injuries, including death, that you, your resident relatives, and occupants of your insured vehicle sustain, up to the limits within your auto policy.
Terminology
A
Aggregate
Found typically in liability policies utilized by businesses. The aggregate limit represents the total obligation of the insurance company during the policy period. An aggregate limit of one million dollars means the insurance company would pay only up to that amount during the policy period.
B
Beneficiary
A beneficiary is the person or entity that is named in an insurance policy to receive the stated benefits from that policy.
C
Cancellation
Termination of a contract of insurance during the policy period by voluntary act of the insurer or insured in accordance with the provisions in the contract or by mutual agreement.
Claim
A request from a policyholder for compensation in regards to an accident or incident for a covered loss.
Co-pay
This is a fixed amount you pay for covered healthcare services.
Coinsurance
In property insurance, a clause under which the insured shares in losses to the extend that he is underinsured at the time of loss according to the formula:
Limit of Insurance Carried / Limit of insurance that should have been carried X the Loss = The claim Paid
Comprehensive Coverage
On an Auto Policy, typically covers anything that was not a collision minus a deductible.
Declarations Page
The Declarations Page is typically the first page of the policy and contains the following information: The Named Insured, the covered property, the description of the property, the policy period and the premium.
Deductible
A dollar amount of a claim with the insured must pay before the policy starts paying its benefits. The company pays benefits only for the losses in excess of the amount specified in the deductible provision.
Endorsement
A change or modification made to a policy to make it fit the needs of the policy owner.
Exclusion
Certain causes (perils) that are specifically listed out as not covered on your insurance policy.
I
Insurance
A contract in place to protect an individual or entity's assets. The named insured receives financial protection or reimbursement against losses from an insurance company.
L
Lapse
The assigned policy ends/cancels without another policy being in effect. Typically due to a non-payment of premium.
Liability
A legal responsibility resulting from injuries or damage to other people or property.
Limits
The dollar amount of protection purchased by the named insurance for specific coverages
P
Personal Property
An individual's contents that they have insurable interest in. Typically things you own – furniture, clothing, electronics, certain appliances, etc.
Policy
A written contract with an insurance company.
Policy Expiration Date
The date in which you current coverage will expire. People renew their policies on this same day so that there is continuous coverage for yourself or your business.
Policy Period
The time frame in which your coverage or policy is active.
Pre-Existing Conditions
Some policies will have a pre-existing exclusion clause. Pre-existing is defined as been treated for or has seen a physician 3 months prior to an effective date of the policy.
Premium
The cost or amount of money an insurance company charges for an insurance policy.
Primary Residence
This is your primary home. Whether it's a house, condo or townhome, if you live there for the majority of the year, and can prove it, it's your primary residence.
Primary Use
A car insurance company may ask the "primary use" of a motor vehicle as part of the application. Primary use is how you mainly use your vehicle. Primary use options include to/from work, business, pleasure or farm use.
Provider Network
Medical, dental, and vision policies often have a select network of physicians or providers that you can use for a better benefit and/or discount.
R
Real or Tangible Property
Land, as well as anything permanently attached to, embedded in or growing on it.
Risk / Type / Hazards
These are terminology used to specifically lay out what types of claims or perils are covered within an insurance policy. Flood, fire, theft, and vandalism would all be considered types of hazards in the insurance world.